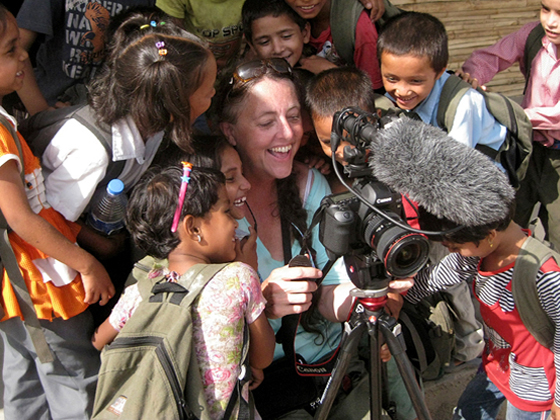 Erin Kelly was 23, settling into a new job in Chicago when a strange email from her mom landed in her inbox with a unusual request. At least, it would've been unusual from nearly any other mom.
Erin's mother was acclaimed professional photographer and videographer, Gail Mooney. Gail had spent her life traveling the globe, shooting for major magazines and media outlets like National Geographic, Travel & Leisure and more. But something happened that awakened her desire to step into her own great adventure. To travel to six continents and film a documentary about people doing amazing good in remote parts of the world.
Always operating as a solo act, Gail wasn't looking for travel partners or collaborators. She just needed stories to tell, people to film and places to crash along the way. And that's what she was asking for in the email blast that Erin was included in.
What happened next changed the course of both Gail and Erin's lives…
Erin replied. Not with a place to crash, but with an offer. She wanted in. On the adventure. On the documentary. On the journey of a lifetime with her mom.
Soon after, the now mother-daughter filmmaker team found themselves on a three-month adventure that would thrust them into countries and circumstances that ranged from awe-inspiring to terrifying. Along the way, they found and captured a series of powerful personal stories that became the moving documentary Opening Our Eyes. And also found their own personal stories and relationship unfolding in a way that would leave them both changed.
In this week's episode, Gail and Erin take us along on this remarkable journey of connection, discovery and creation.
Sign up below for weekly updates and instant access to the mp3 audio vault.
And if you prefer, you can always subscribe over on iTunes, too!
With gratitude,
Jonathan