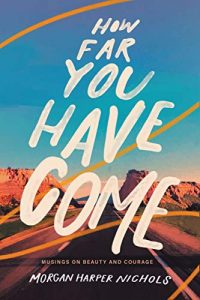 Morgan Harper Nichols is an artist and poet whose work is inspired by real-life interactions and stories. Morgan spent the first couple of years of her professional life as a college admission counselor, and then, as a full-time touring singer-songwriter and musician. It was on the road that she cultivated her curiosity and passion for writing, art, and design and slowly began to share her work online.
In 2017, Morgan started a project where she invites people to submit their stories to her website. From there, she creates art as a response to their stories and sends it to them before sharing the work publicly. All stories and names are kept private. The fruit of this project is shared daily around social media, in publications, and various creative collaborations and installations.
As an artist, Morgan has collaborated with a wide range of brands including Coach, Adobe, Vogue Singapore, Aerie, and more. As a designer and author, her work has been available in many stores, including Anthropologie, Barnes and Noble, and Target. Her latest book, How Far You Have Come: Musings on Beauty and Courage is a beautiful collection of illustrations, poems and essays and we dive into the verse, experiences and moments that often reveal deeply personal, yet universal awakenings, in today's conversation.
You can find Morgan at: Website | Instagram
Check out our offerings & partners: 
Ana Luisa: Sustainably-made jewelry with a conscience. If you're looking for a gift for yourself or a loved one, check out Ana Luisa's pre-Mother's Day sale at analuisa.com/goodlifemd to get 15% OFF.
AquaTru: Countertop reverse osmosis water purifier that's certified to create bottled-quality water. Receive $100 off an AquaTru plus free shipping when you go to AquaTru.com & enter code GOODLIFE at checkout.