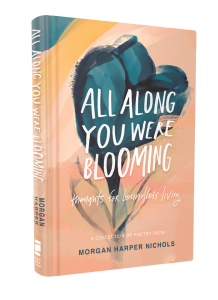 Morgan Harper Nichols is a writer, artist, and musician. While on the road performing, she cultivated her passion for writing and art, and began to share them online. In 2017, Morgan started inviting people to submit stories, in response, she would create art inspired by them, then send the person the original, while sharing the digital version on Instagram for all to benefit. She has now grown a community of 1.1 million followers and been commissioned to create for publications, murals and collaborations with brands like Anthropologie, Adobe, LiveNation, Coach, and more. Her first full-color book of art and poetry All Along You Were Blooming is now available.
You can find Morgan Harper Nichols at: Website | Instagram
Check out our offerings & partners: 
Allbirds shoes are made from natural materials. That means less of the bad stuff, and more of the good stuff. Find your perfect pair today at Allbirds.com
Coaches, Counselors, HR pros, Advisors, Leaders, & helping professionals – Become "Sparketype® Certified!" Learn how to tap the power of the Sparektypes to help others come alive in work and life.
photo credit: Bogdana Ferguson