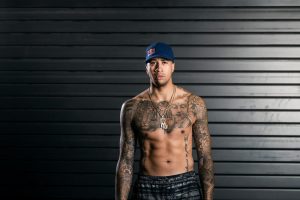 Miles Chamley-Watson is on a mission to take fencing mainstream. A British-born, 6-foot-four Black man, covered in tattoos with bleached blond hair, he breaks pretty much every generations-old assumption and mold about what the staid, traditionally-conservative and often elitist sport is about. Miles actually struggled a lot as a young kid, especially with focus, attention and school, until one day a teacher introduced him to fencing. That moment changed everything. He was obsessed and it gave him a physicalized way to learn and develop intense focus that soon became the driving force in his life. 
Miles wanted to be the best in the world and win the Olympics. And indeed, already a world champion and an Olympic medalist, he's well on his way. Miles also decided to redefine the public perception of the sport, to make it more modern, alive, high-profile and appealing to a younger generation, especially those often excluded from the pursuit. And he's on a mission to reimagine the financial side of this sport, introducing a level of popular appeal, relevance and excitement that's landed him a huge social media following and big endorsement deals with brands like Coach and Red Bull.
You can find Miles Chamley-Watson at: Instagram
Check out our offerings & partners: 
Freshly: Each Freshly meal is perfectly sized for 1 person to enjoy at 1 sitting. Fully-prepared meals are delivered fresh, and ready to eat in 3 minutes.  Get $40 off your first two orders when you go to freshly.com/GOODLIFE
Theragun: A deep muscle massage treatment unlike anything you've ever felt. Feel better, move better, and recover faster with tension and soreness relief. Try Theragun for 30-days. Go to Theragun.com/GOODLIFE right now and get your Gen 4 Theragun today.
Beachbody: 1,500+ Workout Classes And Meal Plans. Coaches To Help Define And Reach Your Health Goals.

To get a special FREE trial, no-obligation membership, text GOODLIFE to 303030.
photo credit: Red Bull