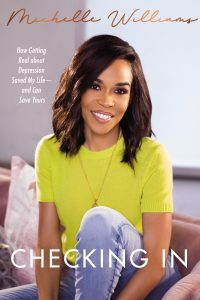 A member of the iconic Destiny's Child supergroup, along with Beyonce Knowles and Kelly Rowland, on the surface, Michelle Williams lived a life people dreamed of. Yet, on the inside, things were not as they seemed. Living under the weight of depression and anxiety, Michelle hid the darkness that had been with her since her teens. The blend of pressure to perform and millions of eyes on her every move only deepened the level of suffering, and the feeling that she had to keep her experience silent. 
When Destiny's Child came to an end, it caught her by surprise. She questioned her identity, career, and worth, and no longer had the singular focus – the group – to distract her from addressing her mental health. After years of navigating a range of professional projects, Michelle eventually found herself in the perfect storm of depression, anxiety, and anger that led her to seek help in a residential program. But that was just the first crashing wave. A tenuous relationship with her fiance crumbled under the bright lights of a reality show that, as she shares, never should have happened. She was devastated, felt abandoned, publicly judged, and inhabiting a world that felt like it no longer fit or supported her. Michelle had what she describes as a psychotic break or complete breakdown. 
That moment, and the suffering that led to it, opened a window of profound reckoning, self-examination, intense therapy, and a renewed sense of faith and devotion that fueled her path slowly back to wellbeing, a journey she shared in her moving memoir, Checking In. And, she's the first to share, there's still a lot of work left to do, but she also very transparent about the moments along the way, with the hope that her story might help others.
We talk about it all, in a wide-ranging, vulnerable and open conversation. 
You can find Michelle at: Website | Instagram
If you LOVED this episode:
You'll also love the conversations we had with Grammy-winning singer, Lisa Fischer, about her life in music and the effect that proximity to mega-stardom has had on her, beyond her own personal taste of fame.
Check out our offerings & partners: 
Parachute: Premium quality sheets, towels, robes and more. Like nothing you've ever felt. Make staying in more comfortable with our modern home collections. Responsibly manufactured. Visit ParachuteHome.com/GOODLIFE for free shipping and returns on Parachute's very comfortable home essentials.
Wordtune: Powered by deep AI technology, Wordtune helps you rephrase your sentences to say exactly what you mean through clear, compelling, and authentic writing. Try Wordtune for free at wordtune.com/GOODLIFE.
Upstart: Upstart's lending platform provides direct-to-consumer personal loans from $1,000 to $50,000 and automated borrowing technology for banks and credit unions. Find out how Upstart can lower your monthly payments today when you go to Upstart.com/GOODLIFE. Loan amounts will be determined based on your credit, income, and certain other information provided in your loan application.
photo credit: Matthew Guillory