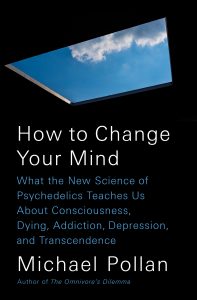 Michael Pollan is the author most recently of mega New York Times bestseller, How to Change Your Mind, and of seven previous books that became global phenomena, including Cooked, Food Rules, and The Omnivore's Dilemma.
A longtime contributor to the New York Times Magazine, he also teaches writing at Harvard and the University of California, Berkeley where he is the John S. and James L. Knight Professor of Science Journalism. In 2010, Time magazine named him one of the one hundred most influential people in the world.
In today's episode, we explore his lens on the writing life, then dive into his year's long investigative journey into the mysterious world of psychedelic molecules, like LSD, psilocybin (magic mushrooms), MDMA and something called "the toad." We talk about the fact, fiction, history, science and revolutionary clinical studies now underway, mostly through the lens of therapeutic outcomes.
This conversation is not a permission-slip to experiment with any of what he talks about, nor an endorsement, so please do not take it as such. Rather, it is a balanced, non-hyperbolic or sensationalized conversation about a category of substances that are now at the cutting-edge of research in the treatment of mental conditions that afflict tens of millions of people.
Check out offerings & partners: 
Photo Credit Jeannette Montgomery Barron