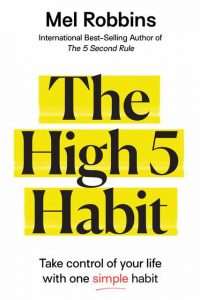 Mel Robbins is one of the leading voices in personal development and transformation and an international bestselling author. Her work includes the global phenomenon The 5 Second Rule, four #1 bestselling audiobooks, the #1 podcast on Audible, as well as signature online courses that have changed the lives of more than half a million students worldwide and now her groundbreaking new book, The High 5 Habit. As one of the most widely booked and followed public speakers in the world, Mel coaches more than 60 million people online every month and videos featuring her work have more than a billion views online, including her TEDx talk, which is one of the most popular of all time.
But, I also know Mel in a different way. She's a dear friend of mine, with a fierce intellect, a giant heart and desire to make a genuine difference in people's lives, starting with her own. She shares, very publicly, her own inner dance with anxiety, compulsion, negativity, and judgment, in a real, relatable, non-sugar-coated way. Mel has found herself at the center of storms that left her thinking "I can't take another thing" more than once. In fact, the last few years landed her in just such a tornado of calamity. Yet, somehow, in those moments, she seems to gain access to ideas that become tools that turn everything around. And the moment she feels their impact in her own life, she's off on a quest to understand how and why they work, then share them with the world. This is what she did with The 5 Second Rule and, now, The High 5 Habit, which became her second global phenomenon before the book was even released. We dive into The High 5 Habit, but also explore her take on relationships, parenting, mindset, vulnerability, transparency and beyond.
You can find Mel at: Join The High 5 Challenge | Instagram
If you LOVED this episode:
You'll also love the conversations we had with Brené Brown

about vulnerability and bravery.
My new book is available!
Check out our offerings & partners: 
Parachute: Premium quality sheets, towels, robes and more. Like nothing you've ever felt. Make staying in more comfortable with our modern home collections. Responsibly manufactured. Visit ParachuteHome.com/GOODLIFE for free shipping and returns on Parachute's very comfortable home essentials.
Peloton: Access high-energy workouts, instantly. Discover Peloton: streaming fitness classes to you live and on-demand. With the Peloton Bike, there's nothing like working out from home. Learn more at onepeloton.com. New members can try Peloton classes free for 30 days at onepeloton.com/app. Terms apply.
Zocdoc: Find In-Network Doctors. Choose from the largest directory of in-person & video visit providers in the nation. Search for Doctors based on availability, location, insurance, reviews & more. Go to Zocdoc.com/GOODLIFE and download the Zocdoc app to sign-up for FREE and book a top-rated doctor. Many are available as soon as today.