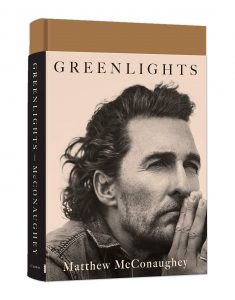 Five days into filming his first movie – Dazed & Confused – some 28 years ago, Matthew McConaughey's dad, a towering force in his life, suddenly died. Matthew had to figure out a way to keep showing up, to keep going. His mantra became "just keep livin," which has become a guiding ethos, a sort of lens through which he lives his life.
Now, nearly three decades later, an Academy Award-winning actor, icon in the industry, married father of three, a master raconteur, entrepreneur, philanthropist, and endless creator of moments and adventures, Matthew lives life as an eternal amateur. Fiercely himself in all parts of life, ever-curious and open, he seeks experiences, wisdom, and insights, always learning, always asking, always seeking, that give him some semblance of understanding what makes life worth living. 
Much of his journey, his take on life, fatherhood, acting, love, family and contribution is offered up in his beautiful and moving new memoir, Greenlights. It's a philosophical and poetic window into the experiences and moments that shaped him and continue to awaken him to what matters most, drawn from 50 years of living, and some 36 years of diaries.
That quest – to figure what a life well-lived looks like – is one we both have in common, and it's probably why in today's conversation we jump into the deep end of the pool fast, exploring everything from nature and solitude to family, love, struggle, character, uncertainty, creation, the sacred nature of being in the spaces in between devastation and wild success, how the moment we're all in has shifted his thinking and what the future we all being called to co-create might look like, and so much more.
That's what you'll hear. But here's what was happening that you couldn't see. As we spoke, Matthew sat at his desk, reading glasses on, and pen and paper in hand. Minutes into the conversation, he began writing, taking notes, regularly jotting down ideas, phrases, and insights, piecing together puzzles in real-time. Ever the seeker, a perpetual student of life, present in the moment, and open to whatever it might bring.
You can find Matthew McConaughey at: Instagram
Check out offerings & partners: 
Plushcare: Book a same-day appointment with a top online doctor. Get diagnosed and prescribed in as little as 15 minutes. Make your appointment today. Go to PlushCare.com/GOODLIFE.
Glossier: Skincare essentials for dewy, glowy skin + makeup you'll actually use. Get the Cloud Paint Duo by visiting Glossier.com/podcast/GOODLIFE. For a limited time, new customers can get 10% off your first order.
Air Doctor: Professional quality, medical-grade UltraHEPA air filter that's 100X more effective than ordinary air purifiers. Go to airdoctorpro.com and use promo code GOODLIFE and you'll receive a 35% discount.
photo credit: Vida Alves McConaughey