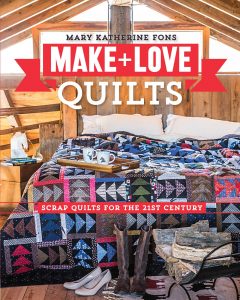 Mary Fons knew she wanted to be a writer from a young age, and was pursuing that path when a catastrophic illness nearly took her life, leading to surgery and changing her future forever.
As she recovered and started to stitch her life back together, she began working with her mom, Maryann Fons, a legend in the world of quilting and author of what has become known as the "Quilter's Bible."
Simultaneously rebuilding her health while building her own name as a leading voice in the massive quilting world, she began speaking, writing books, designing textiles and producing media and appearing regularly on television with her mother. Still, she knew deep down that quilting wasn't her dream. Writing and spoken-word began to call her back to a more deeply ingrained destiny.
We recorded this conversation at a major point of inflection for Mary. She was about to make a huge move, and in a way, this conversation is her announcement. As we wrap up, Mary also reads a powerful spoken word piece that landed her writing and poetry big attention and accolades. You don't want to miss this.
In This Episode, You'll Learn:

The mind-blowing statistics behind the world of quilting.
The catastrophic illness and events that changed Mary's life forever.
How Mary has learned to handle the stress of living her life in her niche's public eye.
How Mary navigated the tricky path to becoming a success in the shadow of a legendary woman and finding her way in the world of quilting.
How to be successful and earn a living in quilting.
How performing, improv and spoken word entered her life.
Why Mary has decided to make the leap from writing to writing.
Mentioned in This Episode:
Be sure to subscribe to our weekly Good Life Updates and listen on iTunes to make sure you never miss an episode!
Camp GLP is about connecting, playing, lighting up on a deeper, more meaningful level. One that bypasses the normal superficial yadda yadda yadda and makes a beeline to the soul. Come join us. 
—
Photo credit: Joe Mazza, BraveLux