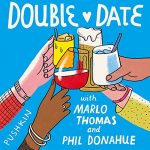 Iconic actress, producer, author and activist, Marlo Thomas, never wanted to marry. She saw what she believed was the way marriage "had" to be – one person giving up their dream for the other – and knew it wasn't for her. Then, one fateful day in 1977, she appeared as an hourlong guest on the legendary daytime talk show hosted by Phil Donaghue. Both were smitten, they sensed something powerful had happened, but neither of them knew that conversation, aired before millions of viewers on daytime TV, would effectively be a first date that would lead to a marriage that's now lasted more than 40 years.
Reflecting on what makes a relationship last that long, they got curious and began to set up double dates with many celebrity couples they know, and others they didn't. People like Viola Davis and her husband, actor Julius Tennon, filmmaker Rob Reiner and his wife Michele; award-winning journalists Bob Woodward & Elsa Walsh; Ted Danson and Mary Steenburgen; Ray Romano and his wife Anna, Neil Patrick Harris and his actor/chef-husband David Burtka; the Rev. Jesse and Jacqueline Jackson, John Leguizamo and wife Justine and so many others. 
Those hours-long conversations went so deep, got so vulnerable, open and at times, hysterically funny, they turned interviews into the bestselling book, What Makes a Marriage Last. And now, those conversations and more are featured in their new original podcast series, Double Date. We had so much fun talking about those early moments in their lives and relationship, what was really going on in each of their lives, hearts and minds and what they learned sitting down for double dates with so many incredible, long-term couples. 
You can find Marlo & Phil's new podcast at: Double Date
If you LOVED this episode:
You will also love the conversation that we had with Julie and John Gottman, who are the founders of the legendary Love Lab, and their deep-dive into what love and what long-term relationships and marriages really are all about.
Check out our offerings & partners: 
Active Skin Repair: Use Active Skin Repair on cuts, scrapes, sunburns, normal burns, chaffing, rashes, wounds. Works on insect bites & other skin irritations. Antibiotic-free & non-sensitizing. Get 20% off your order and FREE shipping by texting GOOD to 64-000. Message and data rates may apply.
Sleep Number: Adjustable firmness, comfort and support on each side.

Proven quality sleep is life-changing sleep. Save up to $1,200 on select Sleep Number 360® smart beds and adjustable bases, for a limited time.

Only at Sleep Number stores or sleepnumber.com/GOODLIFE
Air Doctor: Capture contaminants and chemicals with a medical-grade UltraHEPA air purifier that's 100X more effective than ordinary purifiers. Go to airdoctorpro.com and use the promo code GOODLIFE to receive a 35% discount off their classic AirDoctor 3000 purifier.