Guest: Mark Lukach is a teacher and freelance writer. His work has been published in the New York Times, The Atlantic, Pacific Standard, Wired, and other publications.
He is currently the ninth grade dean at The Athenian School, where he also teaches history. He lives with his wife, Giulia, and their son in the San Francisco Bay area.
His latest book, a heart-wrenching memoir, is called My Lovely Wife in the Psych Ward. Mark first wrote about Giulia in a New York Times "Modern Love" column and again in a piece for Pacific Standard Magazine, which was the magazine's most-read article in 2015.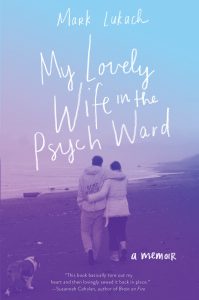 Story: During his freshman year in college, Mark spotted the love of his life across the quad and immediately knew he would spend the rest of his life with her. They became inseparable: they graduated together, married, and began building an exquisite life with dreams, hopes and expectations. Until one day he came home to find his lovely wife living in a radically different world – a state that he now knows to be deep psychosis. Staying profoundly committed to each other, Mark and Giulia learned to navigate the challenging times and rebuild their lives and their family.
Big Idea: In today's world of the "ideal life", as portrayed by social media, people yearn to be open and vulnerable, and have authentic conversations about what they are going through. They are desperate for deep human-to-human connection without trying to pretend that things are better.
You'd never guess: How Mark and Giulia, as a couple, came up with a plan to deal with potential future psychotic relapses without totally disrupting their lives.
Current passion project: Mark works as a 9th Grade Dean, helping families with the transition from middle school to high school.
Rockstar Sponsors: 
Audible has the best audiobook performances, the largest library, and the most exclusive content. Learn more, start your 30-day trial and get your first Audible book free, go to Audible.com/goodlife.
RXBAR Kids is a snack bar made with high-quality, real ingredients designed specifically for kids. It contains 7 grams of protein and has zero added sugar and no gluten, soy or dairy. Find at Target stores OR for 25% off your first order, visit RXBAR.com/goodlife.
Are you hiring? Do you know where to post your job to find the best candidates? Unlike other job sites, ZipRecruiter doesn't depend on candidates finding you; it finds them. And right now, GLP listeners can post jobs on ZipRecruiter for FREE, That's right. FREE! Just go to ZipRecruiter.com/good.
Photo credit: Alex Souza