Mark Divine never thought he'd be a Navy SEAL. He was being groomed for the family business. Then, a chance walk by a recruiting office turned his world upside down and offered him a path to claim his warrior calling.
Mark graduated as honor-man of his SEAL BUD/s class 170. He served nine years on Active Duty and 11 years as a Reserve SEAL before retiring as Commander in 2011 and stepping into the world of entrepreneurship.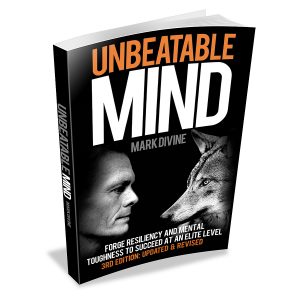 He co-founded Coronado Brewing Company, launched the acclaimed SEALFIT program that provides transformational personal and team training experiences, and developed the Unbeatable Mind training, an integrated warrior development academy for the mind, body and spirit.
Divine is also a New York Times bestselling author of The Way of the SEAL, 8 Weeks to SEALFit, Unbeatable Mind and Kokoro Yoga. And, he hosts the Unbeatable Mind podcast.
Today's episode takes us on a deep dive into his story and also his lifelong commitment to developing not just the physical body, but the mind and spirit as conduits to strength, achievement and resilience.
Rockstar Sponsors:
RXBAR Kids is a snack bar made with high-quality, real ingredients designed specifically for kids. It contains 7 grams of protein and has zero added sugar and no gluten, soy or dairy. Find at Target stores OR for 25% off your first order, visit RXBAR.com/goodlife.
Are you hiring? Do you know where to post your job to find the best candidates? Unlike other job sites, ZipRecruiter doesn't depend on candidates finding you; it finds them. And right now, GLP listeners can post jobs on ZipRecruiter for FREE, That's right. FREE! Just go to ZipRecruiter.com/good.
MVMT Watches (pronounced Movement) was founded on the belief that style shouldn't break the bank. Classic design, quality construction and styled minimalism. Get 15% off today —WITH FREE SHIPPING and FREE RETURNS—by going to MVMT.com/good.
Thrive Market sells all the top organic and non-GMO products at wholesale prices, shipped straight to your door. Thrive Market is going to give our listeners 35% off your first order + free shipping and a 30 day free trial by going to thrivemarket.com/goodlife.  Again, keep in mind that prices are already 25-50% off retail and now they're giving an EXTRA 35%!
Support for this podcast comes from abc, presenting the new drama "The Good Doctor" from the creator of House. The Good Doctor premieres September 25th, with new episodes Mondays at 10/9 Central on abc.
Support for this podcast comes from abc, presenting "Kevin Probably Saves the World", the new drama that will change the way you feel…about the Universe. New episodes every Tuesday at 10/9 Central on abc.