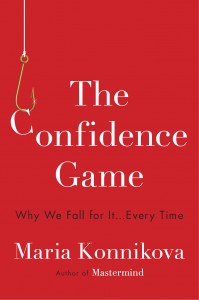 Imagine yourself as a child uprooted from your home, and bouncing from nation to nation as a paperless refugee…
Envision the fear of being unexpectedly foreign in lands when the customs are as alien as the language being spoken…
What would you do? Would you follow your dreams and thrive, or merely play it safe and survive?
These were the questions facing Maria Konnikova, an author and psychologist who landed in the suburbs of Boston by way of Moscow, Vienna, and Rome at the tender age of four.
Despite not knowing a word of English upon her arrival in the United States, Maria worked furiously in pursuit of her passion—writing—eventually graduating with a bachelors from Harvard (magna cum laude, by the way) and a Ph.D. from Columbia University.
Maria's first book, Mastermind: How to Think Like Sherlock Holmes, was a New York Times bestseller, and her writing has been featured in The Atlantic, The New York Times, Slate, California Sunday, Pacific Standard, The New Republic, The Paris Review, The Wall Street Journal, Salon, The Boston Globe, The Observer, Scientific American and WIRED. She also writes a regular column focusing on psychology and culture for The New Yorker.
In today's conversation, we explore her powerful journey and the family dynamic that gave her the space to create a living and life she truly loves. We also discuss why committing to something you're passionate about is so important.
Then, we dive into Maria's latest book, The Confidence Game, a riveting exploration into the minds of con artists and the people who fall prey to them. You'll discover a world you've very likely fallen under the spell of, without even knowing it. You'll learn how even the smartest people get taken, and sometimes that's a great thing.
You'll also see the deeper psychology of persuasion and how it unfolds in nearly every "transaction and conversation" all day long, from the coffee you buy in the morning to the things you eat, buy or try, the conversations you have in the office and outcomes you create in the world.
In the end, we come to an unsettling truth. The only real difference between devastating cons, entrepreneurship, marketing and self-help is…well…you'll have to listen to find out! 
Be sure to subscribe to our weekly Good Life Updates and listen on iTunes to make sure you never miss an episode!