On one level, Mari Andrew never meant to have the life she's now living. On another, it was her destiny.
Mari is a writer, illustrator and solo travel enthusiast currently living in New York. She began posting an illustration a day on Instagram in 2015 as a way to share her lens on life and connect with people. In a few short years, her following exploded to more 600,000 people.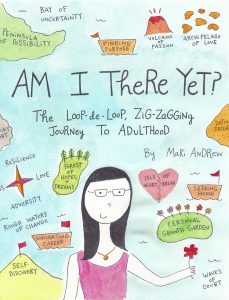 What's so fascinating is why. These daily posts aren't created by the stroke of a fine artist's brush or trained letterer's steady hand. Instead, she offers simple stick figures and line-drawings. The power in her daily dispatches lies not in the technique, but in the simplicity of expression, the emotion, the honesty and relatability her work conveys.
Andrew doesn't share her "shiny, happy, made-for-social-media life," but rather invites you into her meandering and beautifully real mind, flush with everything from grief, heartbreak and career confusion to spiritual journeying, illness, love, friendship, and the pursuit of the perfect lipstick to create comics that speak to a wide audience.
Simply put, Mari's art lets you know you're not alone.
We sat down with Andrew to explore her early years as a kid in Seattle, and how her relationship with her parents shaped her and her work. We talked about her journey to becoming an "artist" (a word she still struggles with), developing her voice, point of view and surviving a rare condition that left her paralyzed in a Portuguese hospital (a terrifying experience she's still recovering from).
Mari has a book of essays and illustrations, Am I There Yet?: The Loop-de-loop, Zigzagging Journey to Adulthood coming out in March 2018. But, you don't have to wait until then to experience her work. Go find her on Instagram now.
We're grateful for the kind support of: 
ZipRecruiter: Post jobs for FREE, go to ZipRecruiter.com/good.
ShipStation: Manage and ship your orders. FREE for 30 days, plus a bonus. Visit ShipStation.com, click on the microphone at the top of the homepage and type in GOODLIFE.
Bombas: Shop today at Bombas.com/goodlife, and get 20% off your ENTIRE purchase.
Photo credit: Carol Wild Photography