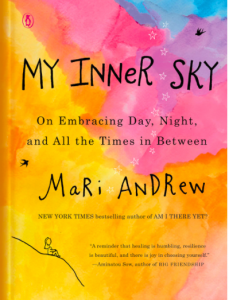 Mari Andrew is what I'd call a flaneur, she navigates the world in search of moments of discovery, wonder, serendipity and connection. That novelty often drops her into those flickering moments of aliveness – that is her muse. It's found an expression in the form of beloved illustrations and words on her Instagram account with a community of more than 1M people and her first book. But these last 4 or 5 years have led Mari into entire seasons of deep struggle, reflection, and, ultimately, revelation that's taken her from park benches in New York's East Village to hospital wards in Spain and random alleys in Rio. 
In her new book, My Inner Sky: On Embracing Day, Night, and All the Times in Between, Mari shares some of these moments, from an illness that temporarily paralyzed her in a foreign country to finding home within herself again and seeing the world anew. It's a call to spend more time finding grace in the truth of whatever life brings you, rather than wishing and waiting for things to change. 
You can find Mari Andrew at: Website | Instagram
Check out our offerings & partners: 
InsideTracker: Get a personalized nutrition & lifestyle action plan designed to improve wellness. Our cutting-edge technology guides you to your goals with actionable recommendations. Data-Driven Results. Evidence-Based Solutions. Personalized Recs. Leading with Science. Visit insidetracker.com/GOODLIFE to get 25% off storewide.
Himalaya: Short actionable audio courses. Practical advice from world-class experts, packed into short lessons you can listen to while doing the laundry or walking the dog. And for a limited time, my listeners can get a free 14-day trial. Just go to Himalaya.com/goodlifeproject, promo code GOODLIFE.
Total Gym: Stay Slim & Toned In The Comfort Of Your Own Home with Total Gym. Right now, Total Gym is offering a 30-day in-home trial on the Total Gym Fit for Just $1. And get an ADDITIONAL 20% OFF whatever discount they're currently running when you go to TotalGymDirect.com/GOODLIFE.