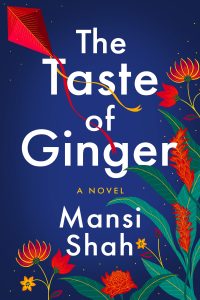 My guest today, Mansi Shah, spent years building a stunning career as a lawyer in the fast-moving world of Hollywood entertainment, working with some of the most iconic storytellers in the industry. But, behind her success as an entertainment lawyer, a lifelong yearning was brewing. She felt deeply called to not just help others tell their stories, often built around narratives that didn't resonate with her background, but to actually be the storyteller, herself. And, to focus her lens on bringing the authentic immigrant experience, her own personal and family story, to a wide audience. 
So, she started writing her own stories, eventually penning the book that would become the groundbreaking and beautiful new novel, The Taste of Ginger. But that journey was anything but easy or linear. Over the 10-years since she started writing, the story and the book took countless turns. The early manuscript was, in fact, rejected by the very editor who, years later, would circle back to acquire and then champion it. Along the way, Mansi's lens on what the story could be and needed to be, and how she needed to honor her creative impulse, commitment to advocacy, and desire to speak to people who were so often left out of the popular storytelling narrative, evolved and became centered in a way that only time and reflection could have crafted. We explore all of this in today's conversation.
You can find Mansi at: Website | Instagram
If you LOVED this episode:
You'll also love the conversations we had with Dr. Sayantani DasGupta about writing stories that expand the landscape of popular narratives.
My new book is available!
Check out our offerings & partners: 
Outschool: Inspire kids to love learning with Outschool classes. It's 100% fun, live & teacher-led. Explore over 100,000 topics and learn in small groups via Zoom. Perfect for ages 3-18. Join for free. To learn more about all Outschool has to offer and to save $15 off your child's first class go to Outschool.com/GOODLIFE
Parachute: Premium quality sheets, towels, robes and more. Like nothing you've ever felt. Make staying in more comfortable with our modern home collections. Responsibly manufactured. Visit ParachuteHome.com/GOODLIFE for free shipping and returns on Parachute's very comfortable home essentials.
Bean Box:

Give the coffee fanatic in your life an unforgettable coffee-tasting experience with Bean Box.

Our coffee is expertly curated and always fresh, with fast delivery and free shipping. Order today at beanbox.com/GOODLIFE and get 15% off purchases of $40 or more.
photo credit: Ron Derhacopian