++++++++++++++++++++++++++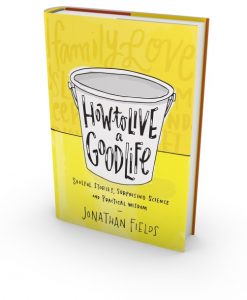 Pre-order your copy of Jonathan Fields' new book, How to Live a Good Life: Soulful Stories, Surprising Science and Practical Wisdom, by October 18, 2016, get great bonuses and we'll plant a tree for every book ordered. We're on a mission to grow a 10,000 tree Good Life Forest! Download the first chapter and invest in your copy now.
++++++++++++++++++++++++++
How does a fearful kid from the midwest with severe social anxiety and a struggling self-image end up on the cover of magazines and teaching women how to love themselves?
That's the story in today's episode of Good Life Project, featuring Lori Harder. Growing up in Michigan, Lori found herself increasingly anxious about more and more things, from the size of her body to her ability to fit in. Not surprising for a young teen. But, add to that being born into a faith with an ethos of separation from outsiders, and you've got a perfect recipe for amplified struggle.
In her early teens, though, something changed that began to bring Harder out of her shell. And, that was just the beginning. She eventually transformed herself into not just a fit and confident woman, but a cover model and an advocate not just for fitness, but for a more complete approach to well-being. She now teaches and speaks on this in her workshops and keynotes and retreats.
As she writes in her manifesto, "Beauty is a way of being.  Strength means showing up.  Fierce self-love is our only choice."
In today's episode, we dive into this journey, especially the early years and explore how family, faith and culture mixed together to create an experience that, looking back, she's grateful for as she emerges into her own path.