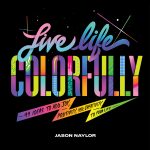 I first learned about today's guest, Jason Naylor, through his art, which at that point, started appearing on walls and buildings all over New York City, and now is featured all over the world and on products, shows, in fashion and beyond. Jason is originally from Salt Lake City, Utah, where he grew up in a Mormon community and eventually felt called to step away and define his own path. After getting his BFA in graphic design from Brigham Young, he moved to New York City where he began his career in MAC Cosmetics' Creative Department as a designer, but the whole time, he was creating his own work and starting to paint these hyper-vivid murals on walls around the city, often featuring inspirational words and quotes on the side. His style just kind of exploded with energy and kindness and playfulness. 
As his work caught on, leading to more and bigger commissions and collaborations with companies like Coach, Sephora, and Pepsi, he left his full-time gig and went all-in on his own art, now running his own brand, Jason Naylor Studio, where he continues to share his positivity through murals, graphic pieces, and collaborations with New York City communities, as well as popular brands. Much of his work and his philosophy of life and creativity appears in his new book, Live Life Colorfully.
You can find Jason Naylor at: Website | Instagram
Check out our offerings & partners: 
Air Doctor: Professional quality, medical-grade UltraHEPA air filter that's 100X more effective than ordinary air purifiers. Go to airdoctorpro.com and use promo code GOODLIFE and you'll receive a 35% discount.
NuCalm: Patented neuroscience technology clinically proven to reduce stress & improve sleep. Quickly and easily balance your autonomic nervous system, every time, without drugs. Go to GoodLifeNuCalm.com and get 50% off your 30-day subscription of NuCalm and their money-back guarantee.
Care/of: Get vitamins and supplements for your health goals and diet, made from the best ingredients, shipped to you each month. For 50% off your first Care/of order, go to TakeCareOf.com and enter code GOODLIFE50.
Photo credit: Drew Reynolds