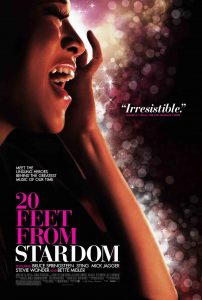 Even if you don't know Lisa Fischer's name, you do know her voice. A mesmerizing vocalist, Fischer spent decades touring and recording with The Rolling Stones, Luther Vandross, Sting, Tina Turner, Nine Inch Nails, Bruce Springsteen, and many others. That earthshaking voice you hear alongside Jagger on the live version of Gimme Shelter, that's Lisa. She's also recorded and toured on her own, earned a Grammy, been featured in the Oscar-winning documentary 20 Feet from Stardom, and for the last 5 years, Ms. Lisa Fischer has been thrilling audiences with her own shows worldwide.
For Lisa, growing up in a neighborhood where loss was a part of the lexicon, she felt like a perpetual outsider. Music was her refuge. She eventually studied opera, then took a turn into R&B, found herself touring with Luther Vandross and other mega-acts, vaulted onto some of the biggest stages in the world. In the midst of this phenomenal success, Lisa wrestled with her own worthiness, and issues of identity, purpose, power, fame, and everything the stage and music industry can bring. We dive into all of this, along with Lisa's take on life, her lens on wonder and possibility, harmony and elevation, alter-egos and true self, and living with one eye on the finality inherent in every moment.
Check out our offerings & partners: 
Ethos is a faster, easier and affordable way to get life insurance. Get a fully personalized quote by going to ethoslife.com/goodlife
Westin: At Westin Hotels & Resorts, they have a single goal: to help you travel well. Explore more at Westin.com
Everlane: Right now, you can check out our personalized collection at Everlane.com/GOODLIFE plus, you'll get free shipping on your first order.
Have you discovered your Sparketype yet? Take the Sparketype Assessment™ now. IT'S FREE and takes about 7-minutes to complete. At a minimum, it'll open your eyes in a big way. It also just might change your life.
Photo credit: Alex Ogaiski – Best Headshots