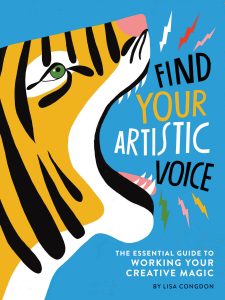 Lisa Congdon is an acclaimed illustrator, author, speaker, and teacher, known for her colorful graphic drawings and hand lettering, her many books, strong voice on social issues and lens on earning a living in the arts. She has worked with everyone from Comme des Garçons, Crate and Barrel, and Facebook, to MoMA, REI, and Harvard University and so many others. Lisa's most recent book, Find Your Artistic Voice: The Essential Guide to Working Your Creative Magic, explores a path to finding and honing your artistic voice.
In today's conversation, we explore the back-story on the events that led to her career taking off in 2016, how she learned to kick the scarcity habit and the shifts that helped her develop her distinctive, deeply personal voice. We also dive deep into the essential elements of artistic voice, what it means to live and work as a whole human being "in the arena", talk about hitting the sweet spot between artistic expression and commercial viability, and get a sneak peek into what Lisa's got coming up next.
Check out our offerings & partners: 
Have you discovered your Sparketype yet? Take the Sparketype Assessment™ now. IT'S FREE and takes about 7-minutes to complete. At a minimum, it'll open your eyes in a big way. It also just might change your life.
Photo credit: Christopher Dibble