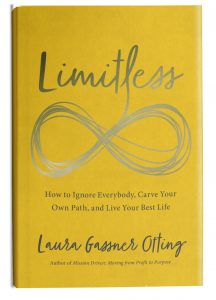 Every once in a while, you meet someone with incredible vision. They see into the future and know exactly what they want to make happen. Everything is possible, they seem limitless. Problem is, seeing isn't doing, and most people, even those bold visionaries, never have the drive and the capability to make their ideas real.
Laura Gassner Otting is one of those rare humans who moves beyond seeing, and embraces the process of doing. Thrust into the world of presidential politics in her twenties, she found herself working in the White House before a series of events led her to launch her own firm, and grew it into a powerhouse in the non-profit search world, before selling the company to focus on her next act.
Along the way, having worked at the highest levels of power and potential, she learned a ton about what truly makes people feel what she calls "limitless." Utterly fulfilled and capable of anything. Her awakenings are distilled into a great new book, appropriately entitled, Limitless, which builds upon something she calls consonance.
In today's conversation, we dive into Laura's mesmerizing journey, her unrelenting drive, her humility, brilliance and perpetual willingness to both listen and lead all in the name of making a difference and helping others rise. In the name of being limitless.
Check out our offerings & partners: 
What if you could discover your "Life's Work DNA?" Turns out, we've all got a unique source-code for work that makes us come alive, I call this your Sparketype™. The more you express this "life's work DNA," the richer your work and life becomes.
So, have you discovered your Sparketype yet? Take the Sparketype Assessment™ now. IT'S FREE!
It is 100% free. It takes about 7-minutes to complete. At a minimum, it'll open your eyes in a big way. It also just might change your life.