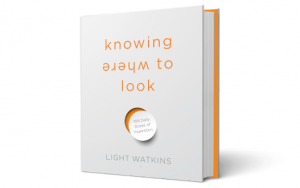 Growing up in Alabama in a family of six, Light Watkins never imagined he'd find himself in his mid-forties, some 15 years into a career as a meditation teacher having led workshops and trained thousands around the world, giving up nearly all his worldly possessions to live out of a backpack and be nomadic for the last three years. Based out of Mexico City for the moment, this last year and a half created the space to reflect on his life of teaching, travel, connection and impact. 
And, stories and insights began to emerge that needed to be written down and shared. Ones about being a young Black kid growing up in the south, living in New York, saying yes to a gig in advertising that would become his one and only traditional job, walking into a meditation workshop with hesitance and walking out knowing it'd be his life's work, immersing himself in study in India, starting a sober social-movement called The Shine, and reflecting on meaning, friendship, love, serendipity, surrender, and, of course, meditation and, more broadly, the role of stillness and reflection in our lives. He's distilled these stories and awakenings into a beautiful new book, Knowing Where to Look. We dive into all of it in today's inspiring conversation.
You can find Light at: Website | Instagram | At The End of the Tunnel
If you LOVED this episode:
You'll also love the conversations we had with Tara Brach about a life of awareness and awakening from trance.
Check out our offerings & partners: 
AquaTru: Countertop reverse osmosis water purifier that's certified to create bottled-quality water. Receive $100 off an AquaTru plus free shipping when you go to AquaTru.com & enter code GOODLIFE at checkout.
Zocdoc: Find In-Network Doctors. Choose from the largest directory of in-person & video visit providers in the nation. Search for Doctors based on availability, location, insurance, reviews & more. Go to Zocdoc.com/GOODLIFE and download the Zocdoc app to sign-up for FREE and book a top-rated doctor. Many are available as soon as today.