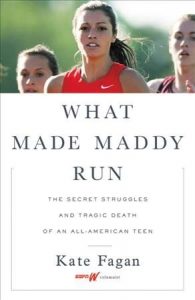 Former ESPN on-air personality, writer and New York Times bestselling author of What Made Maddy Run, Kate Fagan, has lived many seasons. A fiercely-competitive athlete as a kid playing pick-up basketball alongside her dad (and dominating on the court), she went on to play Division 1 ball for C.U. Boulder, before turning pro. But writing kept calling her back, Fagan eventually stepped out of the limelight of the court, began to write and just never stopped.
Her first book shared Kate's coming story. Her second, What Made Maddy Run, is a revealing look at the sometimes crushing weight we so often place on young adults in the spotlight (and they place on themselves), and what we might do to make things better. Along the way, Kate also fell in love, got married, and more recently, has been navigating the news and reality of her lifelong basketball partner, her dad, being diagnosed with ALS. Kate has so much to share about the importance of showing up for those you love, the thousands of tiny decisions that can change a life, the intersection between media, women's athletics and fans, and the power of valuing your own compass throughout it all.
Check out our offerings & partners: 
Have you discovered your Sparketype yet? Take the Sparketype Assessment™ now. IT'S FREE and takes about 7-minutes to complete. At a minimum, it'll open your eyes in a big way. It also just might change your life.