From darkness comes light. That's what we're told. But, it's not always the case.
In today's moving conversation with Lea Waters, we explore how a childhood she describes as holding the darkness of abuse led to years of continued suffering, but eventually became a source of transformation and led to a life of profound light, beauty and strength.
Waters is an Australian psychologist, the Founding Director of and professor of Positive Psychology at the Centre for Positive Psychology, University of Melbourne. She holds affiliate positions at Cambridge University's Well-Being Institute and the University of Michigan's Center for Positive Organizations and has published over 95 scientific articles and book chapters.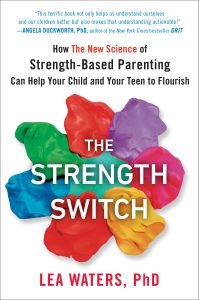 Her first book, The Strength Switch: How The New Science of Strength-Based Parenting Can Help Your Child and Your Teen to Flourish, was recently included in UC Berkeley's Greater Goods Magazine's Top Books for 2017. Lea is the 2017-2019 President of the International Positive Psychology Association and serves on the Council of Happiness and Education for the World Happiness Council. She lives in Melbourne, Australia, with her husband, son and daughter.
In today's deep dive, we explore Waters' journey from a childhood she describes as having a lot of pain to her attempt to "self medicate" led to a year's long eating disorder, then to her awakening to a bigger truth about who she was, where her self-worth came from and a commitment to harness the her experience as fuel for a powerhouse career in the science of flourishing, with a focus on raising kids who experience life to it's fullest.
+———————+
We're grateful for the kind support of: 
ShipStation: Manage and ship your orders. FREE for 30 days, plus a bonus. Visit ShipStation.com, click on the microphone at the top of the homepage and type in GOODLIFE.
Harney & Sons Fine Teas by Master Tea Blenders: $15 off your first order of $49 or more. Go to Harney.com and use promo code GOODLIFE for your $15 off.
ZipRecruiter: Post jobs for FREE, go to ZipRecruiter.com/good.
Photo credit: Andrew Campbell