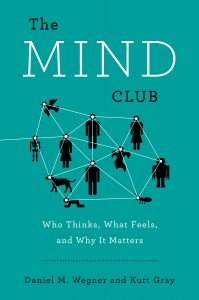 2-+This week on The Good Life Project, our guest is social psychologist and professor at the University of North Carolina-Chapel Hill, Kurt Gray.
Kurt studies mind perception and morality. In his research, Kurt is trying to answer questions about the true nature of human beings, from good and evil to why we attribute human-like qualities to non-human beings and things. Kurt is the author of  The Mind Club: Who Thinks, What Feels and Why it Matters.
Kurt has spent the majority of his career researching the mind, morality and why we do what we do. Today, Kurt takes us deep into his research and the topics he has spent his life working on.
I am so excited to share this interview with you, and it may even give you some insight into how our lives may change in the future with technology.
In This Episode, You'll Learn:
Why Kurt is curious about the mind.
How Kurt's mentor and co-author shaped his life.
Why if you feel like a victim in life, everything will be more painful.
Do animals, plants, and even robots have minds?
The prerequisites to gain entrance to The Mind Club.
What Tom Hank's character in Castaway befriending a volleyball tells us about human connection.
The reasons why we give inanimate objects a human mind.
The greatest test to tell if we think an object has a mind.
Kurt's definition of the difference between the brain and the mind.
Kurt's hope for the future of his research.
Mentioned in This Episode:
+++Camp GLP is only 6-weeks away! Grab your spot now! +++
Be sure to subscribe to our weekly Good Life Updates and listen on iTunes to make sure you never miss an episode!
Photo credit: Christine Alicino