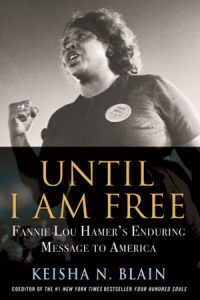 With the rigor of a world-class researcher and the intention of someone who cares deeply about the human condition and understanding how we all got to this moment in history, Dr. Keisha N. Blain is an award-winning historian of the 20th century United States with specializations in African American History, the modern African Diaspora, and Women's and Gender Studies. She is an Associate Professor of History at the University of Pittsburgh and the president of the African American Intellectual History Society. 
She is also the author of the multi-prize-winning book Set the World on Fire: Black Nationalist Women and the Global Struggle for Freedom, and co-editor of the Charleston Syllabus: Readings on Race, Racism, and Racial Violence. Her #1 New York Times Best Seller Four Hundred Souls: A Community History of African America, 1619-2019, edited with Ibram X. Kendi, drew together an incredible collection of voices with a vision to reclaim the historical narrative. And her new book, Until I Am Free: Fannie Lou Hamer's Enduring Message to America, is a powerful look not just at the role of civil and voting rights activist, Hamer and other Black women in social and political change, it's also an invitation for us all to explore our individual roles in the path to equality and freedom, led by Hamer's famed rallying cry, "Nobody's free until everybody's free."
You can find Keisha at: Website | Instagram
If you LOVED this episode:
My new book is available!
Check out our offerings & partners: 
GoodRx: Compare prescription drug prices and find coupons at more than 70000 US pharmacies. Save up to 80% instantly! For simple, smart savings on your prescriptions, check GoodRx at GoodRx.com/GOODLIFE. GoodRx is not insurance but can be used instead of insurance