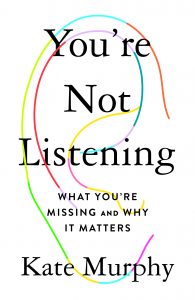 Kate Murphy is a Houston, TX-based reporter whose writing has appeared in The New York Times, The Economist, Agence France-Presse, and Texas Monthly. Her book, You're Not Listening is equal parts cultural observation, scientific exploration, and a rousing call to action that's full of practical advice. Murphy explains why we're not listening, what it's doing to us, and how we can reverse the trend. She makes accessible the psychology, neuroscience, and sociology of listening while also introducing us to some of the best listeners out there (including a CIA agent, focus group moderator, bartender, radio producer, and top furniture salesman). It's time to stop talking and start listening.
You can find Kate Murphy at: The New York Times
Check out our offerings & partners: 
LinkedIn Learning: Visit LinkedInLearning.com/glp and sign up for a demo today.
The Good Life Journal will get you going with a simple and fun, science-based 7-minute morning practice that'll set your day up completely differently. And, a 5-minute evening practice that'll help you wind down, let go of the day, and relax into peace, ease and gratitude.
Photo credit: Karen Keith