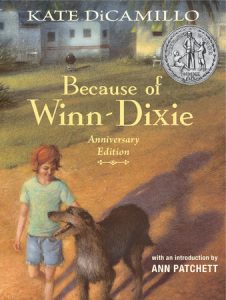 Kate DiCamillo writes books for kids and young adults that also just happen to break open grownup's hearts. Moving to Minnesota from Florida in her twenties, homesickness and a bitter winter helped inspire her to write Because of Winn-Dixie, her first published novel, which became a runaway bestseller and earned her a Newbery Honor. Since then, Kate's written for a wide range of ages, earning a devoted audience and heaps of accolades.
Her #1 New York Times bestseller The Miraculous Journey of Edward Tulane was a deeply moving reflection o life, meaning and legacy, through the eyes of a toy china rabbit. The Tale of Despereaux, her Newbery Medal-winning novel, later inspired an animated adventure from Universal Pictures and Kate was named National Ambassador for Young People's Literature for 2014–2015.
She's fiercely honest, always tells the truth, but also always leads you to a place of awakening and hope, especially in circumstances that seem destined for the opposite. And right now, we could all use a bit more of that. The theme of hope and belief amid tough circumstances is a common thread in much of Kate's writing, in no small part because that was her story, too.
You can find Kate DiCamillo at: Website | Facebook
Check out our offerings & partners: 
Athletic Greens: Boost your energy levels, support your immune system, and address gut health. Visit athleticgreens.com/goodlife to claim their special offer today – and receive the FREE D3/K2 wellness bundle with your first purchase!
ZipRecruiter: The smartest way to hire. See why ZipRecruiter is effective for businesses of all sizes. Try ZipRecruiter for free at our web address: ZipRecruiter.com/good
Nutrafol:

You can grow thicker, healthier hair AND support our show by going to

 Nutrafol.com and use promo code GLP to get 20% off. Plus FREE shipping on every order.
Photo credit: Catherine Smith Photography