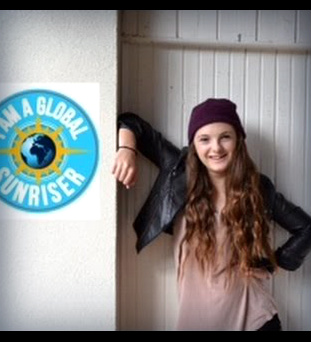 Kasha Slavner is a social justice activist and budding documentary filmmaker who recently took home second prize in what Raindance Toronto calls the 'Dragon's Den for filmmakers."
That would be a huge accomplishment for any aspiring filmmaker and activist, but what makes this even more unusual is that Kasha is, wait for it…
15 YEARS OLD!!!
Kasha's interest in social justice and activism was sparked when, at the age of 8, she was exposed to the work of Craig Kielburger who co-founded Free The Children in 1995 at only 12 years of age. From that moment, she realized you're never too young to make a difference.
So she began to create her own ways to serve. A passionate photographer, blogger and social entrepreneur, Kasha has initiated many social justice and leadership campaigns and turned her creative interests into a number of social ventures—Sweet Scrub© and Kasha's Cards of Kindness ©—that fund her photography and deep commitment to causes she cares about. And this year, she was invited to attend the United Nations as a youth delegate for the 57th Commission on the Status of Women
Kasha's work came to my attention when she launched an Indiegogo campaign with her mom to fund a documentary film and book of short stories/reflections that explore global citizenship, resilience, inspiration and empowered leadership while traveling the world with her mother.
You can support Kasha's quest to make a film that teaches global citizenship to kids journey by donating to her Indiegogo campaign here.
You can listen to the full GLP Radio [audio-only] episode below, subscribe over on SoundCloud or listen and subscribe on iTunes.
Don't miss a future episode and be sure to stay up date and go behind-the-scenes with us.
Subscribe to our weekly email updates below.
With gratitude,
Jonathan