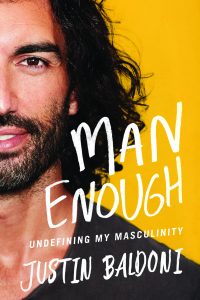 After years in the entertainment world, Justin Baldoni, found that classic breakout moment as an actor in the role of Rafael Solano on the hit show Jane the Virgin. But, underneath what seemed to be an extraordinary mainstream success, a certain discontent and vision of what the industry and life could be was brewing. In no small part, fueled by a deep devotion to his Bahá'í Faith, which stresses unity, universal dignity and the elimination of barriers to oneness. He began to question everything from the way stories were told to the fundamental underpinning of the entertainment machine, and even his own place in it. That led him into a deeper exploration of identity, relationships, and eventually to questioning of modern concepts of masculinity, which led him to write his first book, Man Enough: Undefining My Masculinity.
It also led Justin to reimagine how he would create this next season of work and life. He co-founded Wayfarer Studios, an independent financial and production engine pioneering purpose-driven, multi-platform film and television productions that elevate and speak to the human spirit. He's on a bit of a mission to disrupt the typical studio model by producing stories that serve as true agents for social change. Justin also founded and serves as chairman of The Wayfarer Foundation, a non-profit organization dedicated to transforming the way communities see and respond to the needs of people experiencing homelessness. Each year, the foundation puts on one of Los Angeles' largest volunteer events, the Skid Row Carnival of Love, which provides connection, services, and resources to people who are experiencing homelessness in LA's Skid Row community. Over the past few years, over 6,000 volunteers have served over 15,000 guests, providing them access to over 100 service partners.
You can find Justin at: Instagram | Man Enough Podcast
If you LOVED this episode:
You'll also love the conversations we had with Matthew McConaughey about meaning, creativity and life.
Check out our offerings & partners: 
Photo credit: John Russo