Guest: Julie Piatt aka "SriMati" is a plant-based chef, meditation guide, yoga teacher, musician, and author of This Cheese is Nuts!: Delicious Vegan Cheese at Home.
Story: In the midst of a successful career as a designer and business owner, Julie and her husband made radical changes in career. While this set in motion a powerful new path for both, it also led them into a financial collapse that took nearly 7 years to emerge from, all which navigating both their own individual evolutions and parenting four kids.
This challenging time, or as Julie calls it "The Sacred Moment," has not only defined she as a person but also allowed her to become the highest version of her true self and informed her journey as a teacher, creator, life-partner and parent.
Big idea(s): Times in our lives that are filled with struggle and pain that bring us to our knees are Sacred Moments that strip us of anything false, show our true nature, and forge us into our highest selves
You'd never guess: How receiving her spiritual name, SriMati, has impacted Julie's journey of discovering her life purpose.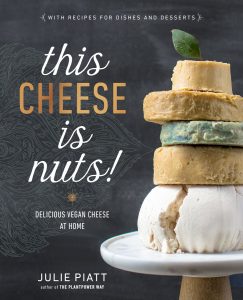 Current passion project: Facilitating intimate retreats of yoga, meditation, exploration, and transformation and building a community of like-minded people around the globe. And developing a line of in-store cheese.
Want more? Listen in on Jonathan's 2015 conversation with Julie: Fueling Vibrant Health the Plantpower Way and you can watch the video of Jonathan's 2013 conversation with Rich Roll: How One Man Kicked Addiction, Dropped 50 Pounds And Became Ultra-Fit.
Rockstar Sponsor:
Thrive Market has all the top premium healthy and organic products that I usually get from a grocery store but unlike your typical organic & non-GMO products that are marked up to premium prices, Thrive Market sells the same organic & non-GMO premium products at wholesale prices! To start your FREE 30-day trial, 25% your first purchase and FREE shipping by going to thrivemarket.com/GOODLIFE.