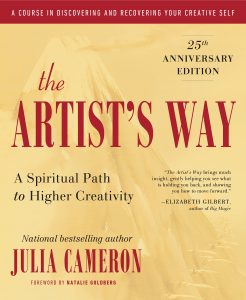 In 1992, after years of teaching workshops on creative unblocking, Julia Cameron self-published The Artist's Way, which became a global phenomenon that sold millions of copies, was translated into 40 languages, and anchors companion workshops that have brought creativity into the mainstream conversation. Along the way, Julia has authored more than 40 books, plays and screenplays, written for Rolling Stone, The Washington Post and The New York Times, and collaborated with legends of television and movies, including Martin Scorsese, who would, for a time, become her partner in life as well. 
A few years back, I had a great opportunity to sit down with Julia in her home in Santa Fe, New Mexico for a beautifully honest and open, deep-dive conversation that ranged from her upbringing to her entrée into the writing life, her years-long struggle with addiction and awakening from it, her time in Hollywood, swept up in the world of movies, and her fierce commitment to her craft and to helping others find their creative voices and let them out. So excited to share this Best Of conversation with you.
You can find Julia at: Website | Instagram
If you LOVED this episode:
You'll also love the conversations we had with Chase Jarvis about the creative calling.
My new book is available!
Check out our offerings & partners: 
Talkspace: Online Counseling Via Text, Audio, Or Video Messaging. At Any Time, From Anywhere. Get $100 off of your first month with Talkspace. To match with a licensed therapist today, go to Talkspace.com or download the app. Make sure to use the code GOODLIFE to get $100 off of your first month and show your support for the show.
photo credit: Robert Stivers