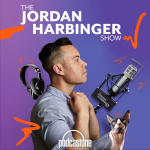 What if you found yourself in the middle years of life, taking on responsibility, building a family, a reputation, a company, a living…and then, in the blink of an eye, had to start over? Not by choice, but by circumstance. That was the experience of this week's guest, Jordan Harbinger. One of the pioneering voices in podcasting, he'd been in the space for nearly 15 years, building a big audience and a business around it. But, a series of events he never saw coming landed him on the outside-looking-in, wondering, "what's next?" He could've left the world of media, podcasting, and conversation behind, and done any number of things. He's a former lawyer with a mind for systems and tech. But, he loved the community of podcasting. It's all he wanted to do. So, instead, Jordan committed to rebuilding his own show, his own career, his own company and team, entirely on his terms and under his control, from the ground up. 
Fast forward 5 years, Jordan has not only made a comeback, but he has also built one of the most popular and successful properties in the explosive growth world of podcasting – The Jordan Harbinger Show – many times larger than he'd dreamed of or, honestly, even imagined was possible. Jordan and I have known each other for years, we've shared ideas, visions, hopes, dreams, and experiences as we've both navigated the world of audio, inspiration, and life. But, I wanted to really understand what this recent season of life has been like for him, what he's learned, how he accomplished such a breathtaking comeback, what he's said no to along the way and why, how passion and relationships have played into this phoenix-like experience, and how he's changed as a person along the way. 
You can find Jordan at: Website | The Jordan Harbinger Show
If you LOVED this episode:
You'll also love the conversations we had with Debbie Millman about designing your life as a perpetually evolving experience.
My new book is available!
Check out our offerings & partners: 
KiwiCo: KiwiCo delivers science and art projects for kids of all ages. Redefine learning with play— explore hands-on projects that build creative confidence and problem-solving skills with KiwiCo! Get 50% off your first month plus FREE shipping on ANY crate line with code GOODLIFE at kiwico.com.
Lumineux Oral Essentials: A dentist formulated and certified non-toxic oral care brand that delivers visible long-term oral health benefits without harsh bleaches & chemicals. Find Lumineux on Amazon.com and get seven dollars off today! Remember! It's spelled with an "X" so you can "X" out the harm! Dedicated to illuminating better ideas in oral care.
Certified Sparketype ® Advisor Training: Immerse yourself in this powerful new training and professional credential, where you will discover how to tap the Sparketype tools and programming to help clients, individuals and groups come alive with purpose, excitement, energy, motivation, engagement, and meaning. Next session starts in April.
photo credit: Nick Onken