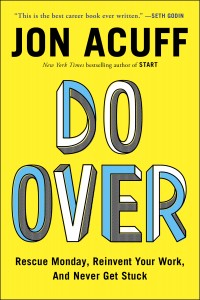 Imagine you're on stage, charged with holding the attention of a thousand people. Knowing that, as soon as you stop talking the free cocktails begin. Your job is to keep the audience rapt for a solid 60-minutes. It's you against the taunt of free partying.
That's often the speaker's worst nightmare. But, this week's guest, Jon Acuff, loves those moments. A New York Times bestselling author of 5 books, including his latest Do Over, he relishes the challenge to win over his audience and keep them hanging on his every word.
What's so interesting is that he doesn't do it by telling them he has everything figured out, then endowing them with his omniscience. He does it by sharing his own humanity, his vulnerability, his not knowing, and then tying it all together in stories that leave people crying with laughter and inspiration. And, he pretty much does the same with his books. Everything he does comes from a place of truth, humor, humility and craft.
In this week's conversation, we go behind the scenes, exploring why Jon left a hugely successful corporate career to take a risk on writing and speaking. We learn how Jon's deep devotion to being honest (but not radically honest), to always working to connect with, rather than separate himself from his readers and listeners, and his devotion to craft and deep study not just of writing and speaking but also of comedy, has become the center of who he is. We explore how he dances with both the maker and the helper in him and reconciles his desire to create with his commitment to serve.
Be sure to subscribe to our weekly Good Life Updates and listen on iTunes to make sure you never miss an episode!