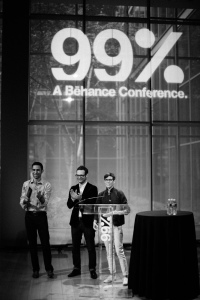 We spend a lot of time thinking about the legacy we're building. What is the thing that threads everything you've done together? What is the mark you're leaving on the world, both in the career or work you do and the way you live your life?
These are big questions. And they're what we're exploring in this week's episode with Jocelyn Glei.
From the time she was a kid, Jocelyn had been drawn to writing, publishing and entrepreneurship. In high school, she launched her first "zine," printed on copiers at her dad's office. Her interest in language deepened through college, and upon graduating she moved through a series of ventures that kept putting her in charge of bigger and bigger editorial teams and budgets. Then, in 2009, Glei hooked with Behance founder, Scott Belsky, to head up now legendary creative mega-site and the annual conference for creative pros, 99U.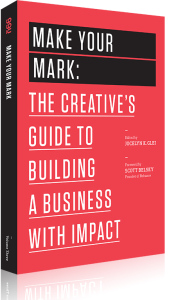 Along the way, she's also curated a powerful three-book series, the latest of which, Make Your Mark,  releases this week, boasting extraordinary essays from creative legends like John Maeda, Warby Parker co-founder and CEO, Neil Blumenthal, SY founder, Keith Yamashita, Sugru inventor, Jane ni Dhulchaointigh and many others.
Please be sure to subscribe below and listen and subscribe on iTunes to make sure you never miss an episode. And, hey, if you like this week's episode, it'd be great if you'd leave a review on  iTunes while you're there.