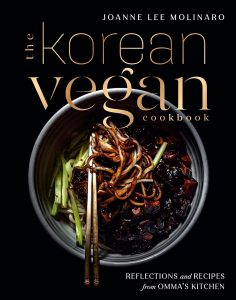 Joanne Molinaro was deep into her career as a full-time attorney when she started blogging as The Korean Vegan, a nod to both her heritage and her curiosity about reimagining the cuisine she grew up on. She soon after launched a TikTok account that exploded and, along with her other platforms, boasts over 3.5 million fans. She's appeared on The Food Network and Al Jazeera English, been featured in the Los Angeles Times, The Washington Post, The Atlantic, NPR, and CNN, and has just released her debut cookbook + memoir, The Korean Vegan Cookbook.
A Korean American woman, born in Chicago, Joanne's parents were both born in what is now known as North Korea. Their harrowing journey to the states led them to settle in Chicago. From her earliest days, she was deeply aware of inequity and felt an empathic call to advocacy, along with the impulse to help guide people through a process of change. That led her into the law, which remained her central devotion, literally, until the day before we recorded this conversation. Her TikTok (@thekoreanvegan), was started largely as a coping mechanism for the isolation caused by the global pandemic. She began posting content related to politics and life as a lawyer during quarantine. However, after a single post of her making Korean braised potatoes for dinner (while her husband taught a piano lesson in the background) went viral, Joanne shifted her attention to producing 60-second recipe videos while telling stories about her life, family, and the state of the world. She discovered an entirely new channel for advocacy and artistry in this most unusual place, one that both allows millions of people to see themselves in the stories, cultures, and yes, food, of others, and also serves as a powerful mechanism to advocate for inclusivity and change.
You can find Joanne at: Website | Instagram
If you LOVED this episode:
You'll also love the conversations we had with MILCK about creativity, music, carving your own path and representation.
My new book is available!
Check out our offerings & partners: 
Theragun: A deep muscle massage treatment, unlike anything you've ever felt. Feel better, move better, and recover faster with tension and soreness relief. Try Theragun for 30-days starting at only $199. Go to Therabody.com/GOODLIFE right now and get your Gen 4 Theragun today. 
Thumbtack: When you need to hire someone — a landscaper, a DJ, anyone — Thumbtack finds them for you for free. Get estimates right now from pros ready to do the job. Don't put off those projects any longer. Download Thumbtack and start crossing off your to-do list today.