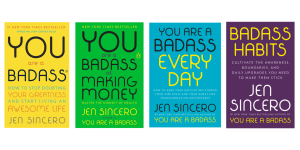 How do you flip the switch from struggle and futility to wild, unbridled joy and success? And how does money play into that equation, if at all, as a source fuel, an outcome, or both?
Today's guest, Jen Sincero, started out as a musician in a band, and really thought that that would be her future. She loved the music, the creativity, the comradery of being in a band, surrounded by community. What she didn't like, though, was the struggle that seemed embedded in the experience. She wanted the passion, but not the suffering. In addition to music, Jen started writing on the side, eventually publishing a book about her drummer, and then to a second book. And Finally, it started leading her into a deeper and deeper career in writing. 
Along the way, she also realized that the life that she was living was not the life she wanted to be living. And she started doing a lot of deep, personal work that incited a personal awakening and reinvention, which then fueled her to write You Are a Badass®: How to Stop Doubting Your Greatness and Start Living an Awesome Life, which became a global phenomenon that has remained on the NY Times bestseller list for years, sold millions of copies worldwide, is available in over 40 languages, and continues to grow in popularity around the globe. Her follow-ups, You Are a Badass® at Making Money: Master the Mindset of Wealth also a NY Times bestseller, You Are a Badass® Every Day, and Badass Habits are written with the same signature benevolent snark, down-to-earth humor and blunt practicality that made You Are a Badass® a beloved bestseller and Jen a celebrated voice in the world of self-development.
Her book, You Are a Badass at Making Money is the focus of today's best of conversation. We track her journey and also we dive into this idea of personal development and money and making money. And a lot of our weirdness around money around writing about money, around talking about money and where that comes from and maybe what you do about it. It's a fun conversation that touches on a lot of different moments in her life and a lot of ideas.
You can find Jen Sincero at: Website | Instagram
If you LOVED this episode:
You'll also love the conversations we had with Patrice Washington about wealth, what it is, and what it's not.
Check out our offerings & partners: 
My New Book Sparked
My New Podcast SPARKED
Zelle: 

When anyone sends you money or if you need to get paid back, always ask for Zelle®! With Zelle, the money goes straight into your bank account, and it works even if the sender banks somewhere different than you in the U.S. Look for Zelle® in your banking app today.