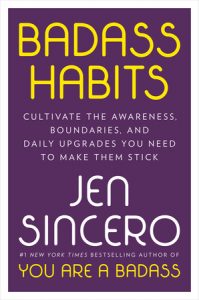 Jen Sincero wants you to be a badass in all parts of life. And, as we head into the end of the year and start thinking about what we want to make happen, she's doubling down on building badass habits. A past guest, Jen is the author of #1 New York Times bestseller You Are a Badass, which has sold over three million copies, is available in over 35 languages and has been on the New York Times bestseller list for over 4 years. Her follow-ups, You Are a Badass at Making Money – also a New York Times bestseller – and You Are a Badass Every Day are written with the same signature in-your-face kindness, down-to-earth humor and blunt practicality that made You Are a Badass a mega-bestseller and Jen a celebrated voice in the world of self-development. 
And, now she's sharing that same irreverent, revealing and deeply-useful lens on the world of habits. I've studied a lot on habits and read pretty much everything written on them, from popular books to research. I confess I kinda thought I knew what there was to know, but Jen introduced opened my eyes to ideas that I'd never thought about before, especially in the way she offers them up. We go deep into all of this in today's conversation, along with what it's like to write books that tap into the zeitgeist and explode you into the hearts and minds of millions, and how that can both be a giant blessing and also a bit challenging.
Check out our offerings & partners: 
Share Good Life Project with your friends and earn rewards: Refer 7 new listeners, get a personalized thank you voice-message from Good Life Project host, Jonathan Fields (and big virtual hugs and gratitude!). Visit tinyurl.com/glpfriend 
KiwiCo: KiwiCo delivers science and art projects for kids of all ages.

 

Get 50% off your first month plus FREE shipping on any crate line

with code

GOODLIFE at kiwico.com.
Boll & Branch:  Soft Sheets, Fair Wages. 30 Sheet Styles. Get $50 off your first set of sheets BollAndBranch.com, promo code GOODLIFE.