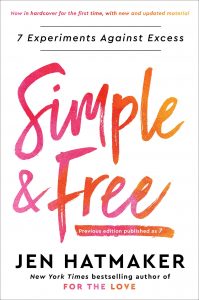 Jen Hatmaker grew up in the church, surrounded by family and community, eventually rising up to become a central figure. But, over the years, she became increasingly uncomfortable with not so much the core tenets and teachings, but rather the trapping and limitations of the institution. She struggled with what she saw as a stifling of power, expression and contribution in the context of women, the exclusion of LGBTQ+ and gender-fluid or nonconforming people and more. So, she did something she knew would leave her labeled a pariah and outcast by many. Still, it was the thing she couldn't not do.
Jen had no idea what was next, or even if faith, or any approach to organized religion would play a role in her life, let alone her vocation. But, over time, she came back to those same core tenets, but in a way that felt far more expansive, equitable and inclusive, and build a new community that welcomed all into more of what she described as a "wild faith." She's since written numerous books, including NY Times bestsellers For the Love and Of Mess and Moxie. She hosts the For the Love Podcast, speaks and created the Jen Hatmaker Book Club where, in her words, she "nerds out every month with thousands of women who believe good books are everything and stories still matter." And she leaders an online community of millions of women. Here latest book, Simple and Free: 7 Experiments Against Excess, is a fascinating take on excess, bundled with a series of experiments that invite us to explore what happens when we strip down key parts of life to their essentials.
You can find Jen Hatmaker at: Website | Instagram
Check out our offerings & partners: 
Peloton: Access high-energy workouts, instantly. Discover Peloton: streaming fitness classes to you live and on-demand. Get started on your Peloton journey. Go to onepeloton.com to learn more.
Care/of: Get vitamins and supplements for your health goals and diet, made from the best ingredients, shipped to you each month. For 50% off your first Care/of order, go to TakeCareOf.com and enter code GOODLIFE50.