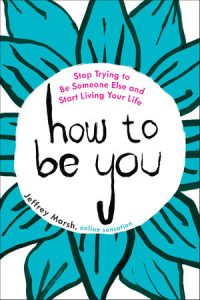 You may know my guest today, Jeffrey Marsh, from their spiritual and inclusive messages that have received over 1 billion views on social media. Jeffrey is a viral TikTok and Instagram sensation, the first openly nonbinary public figure to be interviewed on national television, and the first nonbinary author to be offered a book deal with any "Big 5" publisher, at Penguin Random House. 
Jeffrey's bestselling Buddhist self-esteem guide How To Be You, is an innovative, category-non-conforming work that combines memoir, workbook, and spiritual advice, inviting anyone and everyone into the conversation through a lens of kindness and inclusivity. How To Be You topped Oprah's Gratitude Meter and was named Excellent Book of the Year by TED-Ed. Jeffrey has also been a student and teacher of Zen for over twenty years, and this practice has been central to both their lens on life, and capacity to do the work they do in a grounded, deeply-present, open-heart and joyful way.
You can find Jeffrey at: Website | Instagram
If you LOVED this episode:
You'll also love the conversations we had with Trystan Angel Reese about living and advocating for your truth.
My new book is available!
Check out our offerings & partners: 
Tommy John: We fixed underwear. Smart design and fabrics mean no more pulling at your pant line. Get comfortable with yourself. No Adjustment Needed. Get $20 OFF sitewide right now at TommyJohn.com/GOODLIFE. Order by December 21st to get it in time for Christmas!
Outschool: Inspire kids to love learning with Outschool classes. It's 100% fun, live & teacher-led. Explore over 100,000 topics and learn in small groups via Zoom. Perfect for ages 3-18. Join for free. To learn more about all Outschool has to offer and to save $15 off your child's first class go to Outschool.com/GOODLIFE