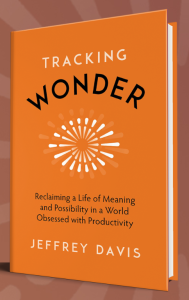 What if you could work, play, and live in a state of wonder? Even now! That's the question I explore with today's guest, Jeffrey Davis. A poet, writer, deep-thinker, founder and CEO of the Tracking Wonder Consultancy, Jeffrey's got an invitation for all of us. To get off the toxic productivity treadmill, which so many have been hammered by in recent times, and reclaim a sense of possibility, meaning, and wonder. To step back into a place of curiosity and lightness. 
And, when Jeffrey offers that invitation, it's not just a naive suggestion to rediscover your inner child, but rather a quest to bring wonder back into your life, based on more than 15 years of research, experimentation, and application. Along the way, Jeffrey has developed a powerful, proven, step-by-step methodology to begin bringing wonder back into your work, relationships, devotions, and life. He shares this in his gorgeous new book, Tracking Wonder, and we dive into key ideas and explorations in today's conversation.
You can find Jeffrey at: Website | Instagram
If you LOVED this episode:
You'll also love the conversations we had with iconic author, Anne Lamott, about opening to all life brings your way.
My new book is available!
Check out our offerings & partners: 
Talkspace: Online Counseling Via Text, Audio, Or Video Messaging. At Any Time, From Anywhere. Get $100 off of your first month with Talkspace. To match with a licensed therapist today, go to Talkspace.com or download the app. Make sure to use the code GOODLIFE to get $100 off of your first month and show your support for the show.
ZenBusiness: ZenBusiness has helped hundreds of thousands of people get their business off the ground by guiding them every step of the way and making it easier to launch a successful business. Get started today for as low as $49 at zenbusiness.com/GOODLIFE.
Come From Away: Broadway's Tony-winning, feel-good again musical is welcoming audiences back into the heart of the remarkable true story. In the middle of nowhere, one small town showed the world that the kindness of strangers could bring us closer. Come back together at Come From Away.