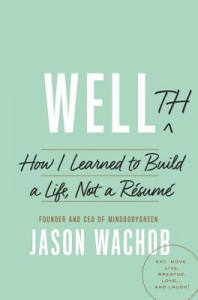 What if you could take an idea and turn it into a website with more than 12 million visitors a month and a powerful global community?
That's exactly what today's guest, Jason Wachob, did. He is the founder of Mind Body Green, one the web's top wellness websites, featuring thousands of articles, a growing catalog of courses, contributors that include many of the top voices in medicine, nutrition and movement, and a huge global community.
This is the second time Jason has been a guest on Good Life Project. He first appeared on the web-series in October 2013. At that point, he shared his powerful story of leaving a career in finance to reclaim his health and found his company. MindBodyGreen was just starting to break out in a big way. Since then, it has exploded.
The team has grown in size, they inhabit new offices and Jason's had the chance to dive deeper into not only what it takes to build a company, but also a culture that walks its own content talk, a community around wellness and a good, vibrant life. He shares his lens on that last question in his new book WELLTH: How I Learned to Build a Life, Not a Resume.
In this week's powerful conversation, we explore Jason's unique, culture-focused approach to building not just a company, but a community and a family. We dive into the dance between wanting to do big things and also wanting to be in control of your time, health, relationships and life. We explore the power of love and belief, and what its like to build a life with a partner he also works with. And we talk about his experience growing a venture that exposes him to the top thinkers and practitioners in health, nutrition and fitness and how that's informed his take on the elements of a life well-lived, especially in the context of being a creator, maker, entrepreneur and life-partner.
Enjoy the conversation!
Be sure to subscribe to our weekly Good Life Updates and listen on iTunes to make sure you never miss an episode!