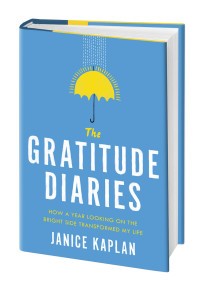 Janice Kaplan is filled with gratitude. But, it wasn't always that way.
Her career in the media has taken her from the TV sportscasting desk to producing dozens of shows, writing more than a dozen books and eventually serving as editor-in-chief of Parade Magazine, which at its height, boasted a circulation of about 30 million readers.
Her life was good, still is. But, she noticed that, as good as it was, there was always this feeling of yearning, of it not being enough.
Then, a few years back, a research project she'd been working on that focused on gratitude triggered her to reexamine her life and explore nearly every facet of her existence anew.
This launched a yearlong exploration of gratitude, with a series of experiments that revealed how profound an impact simple shifts and daily practices could have on her life. Unfolding in "seasons," Janice examines both the growing wellspring of research, as well as the direct effect of so many "gratitude interventions" we've heard about over the years in her book, The Gratitude Diaries.
In today's conversation, we dive into Janice's extraordinary career in media, her creative through-lines and fascination with human behavior and why we do what we do, and her values around family, women's voices, relationships, life and the life-changing impact of her year of gratitude.
Be sure to subscribe to our weekly Good Life Updates and listen on iTunes to make sure you never miss an episode!
+++
Photo credit: Ron Dennett