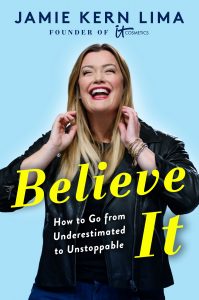 Jamie Kern Lima thought she'd spend her life in the world of broadcast TV, where after graduating, she began working her way up as a journalist, then eventually news anchor where a bright career was laid out in front of her. Then, the camera started picking up a genetic skin condition that she struggled to hide and threatened to derail what she'd worked for. That experience set in motion a quest that eventually led her out of broadcast journalism and into the world of entrepreneurship where she'd eventually found IT Cosmetics, a company she started in her living room and would eventually sell to L'Oreal for $1.2 Billion, becoming the first female CEO in L'Oreal's 100+ year history. 
Her journey, though, was anything but smooth, with years of 100+ hour weeks, living hand-to-mouth, miles of no's and countless dark nights of the soul and even a single moment that would either shut the company down or launch them into the stratosphere, which by the way, it did. Jamie is passionate about inspiring and mentoring entrepreneurs, building businesses, making a difference in the lives of women and girls and giving back in a big way. Her book, Believe IT: How to Go from Underestimated to Unstoppable, shares her story and many of the big insights she's now sharing with aspiring creators and founders.
You can find Jamie Kern Lima at: Website | Instagram
Check out our offerings & partners: 
Himalaya: Short actionable audio courses. Practical advice from world-class experts, packed into short lessons you can listen to while doing the laundry or walking the dog. And for a limited time, my listeners can get a free 14-day trial. Just go to Himalaya.com/goodlifeproject, promo code GOODLIFE.
Tommy John: We fixed underwear. Smart design and fabrics mean no more pulling at your pant line. Get comfortable with yourself. No Adjustment Needed. Returns and exchanges are FREE and right now get 15% OFF your first order at TommyJohn.com/GOODLIFE.
Care/of: Get vitamins and supplements for your health goals and diet, made from the best ingredients, shipped to you each month. For 50% off your first Care/of order, go to TakeCareOf.com and enter code GOODLIFE50.