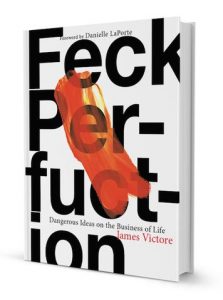 When James Victore was told by a professor, in his design program during college, that he wasn't cut out for the famed institution he'd been attending, instead of arguing, he left. Then, promptly launched and built his own successful design consultancy. Years later, an accomplished illustrator, designer, and provocateur of the status quo, he returned to that very school, but this team, to teach is own perpetually-packed class. 
James has been described as part Darth Vader, part Yoda, prolific storyteller, designer, provocateur, artist, activist and teacher. A designer and creative thought leader who people look to find clarity and purpose in their life and work. He's widely known for his impassioned views about design and its place in the world. At the helm of his independently run design studio, James makes work that takes a strong position and often toes the line between sacred and the profane. And, the world has taken notice. His work has been exhibited at the Museum of Modern Art in New York, in the permanent collections of the Louvre and the Library of Congress and his client list includes countless industry leaders. His book, "Feck Perfuction" is sort of his manifesto on living a creative, full-contact and alive life.
More recently, he's been facilitating a Live Mentoring Program he calls 'The Creative Warrior,' which is the culmination of decades of teaching, mentoring, sharing and, as he describes it, "just me having fun with brave souls." So excited to share this Best Of conversation with you. 
You can find James at: Website | Instagram
If you LOVED this episode:
You'll also love the conversations we had with Seth Godin about the importance of honoring your inner voice and developing a practice of personal innovation.
Check out our offerings & partners: 
photo credit: Mark Mann