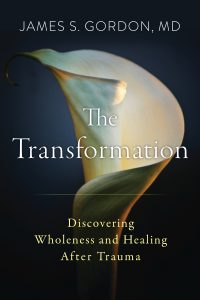 James S. Gordon, MD is a Harvard-educated psychiatrist internationally recognized for using self-awareness, self-care, and group support to heal population-wide trauma. He is the
founder and executive director of the nonprofit Center for Mind-Body Medicine
, a clinical professor at Georgetown Medical School, and was chairman of the White House Commission on Complementary and Alternative Medicine Policy. His latest book,
The Transformation
, helps us understand that trauma will come sooner or later to all of us, and how to navigate it.
Gordon has been on the ground during moments of profound upheaval, from Haight-Ashbury during the Summer of Love to Mozambique in the wake of a civil war fought largely by child soldiers, and war in the Balkans, the Middle East, Africa and more. In today's conversation, he talks about what it's like to lead teams in hands-on trauma prevention and integration work in these extremely challenging environments, as well as his hopes for rehumanizing medicine, choosing risks over betraying the self, and the incredible power we have to heal in community.
Check out our offerings & partners: 
Everlane: Right now, you can check out our personalized collection at Everlane.com/GOODLIFE plus, you'll get free shipping on your first order.
Westin: At Westin Hotels & Resorts, they have a single goal: to help you travel well. Explore more at Westin.com
Modsy: This month ONLY, when you go to Modsy.com, start a design project, and use the code GOODLIFE you will get 20% OFF.
Have you discovered your Sparketype yet? Take the Sparketype Assessment™ now. IT'S FREE and takes about 7-minutes to complete. At a minimum, it'll open your eyes in a big way. It also just might change your life.