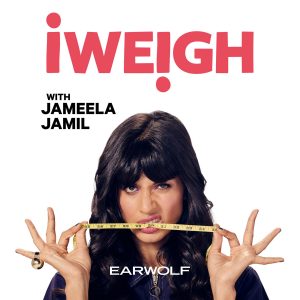 Jameela Jamil an actor, writer, podcaster, and activist. Leaving behind a high-profile life as a host and DJ on two of the UK's most iconic TV and radio shows, a health scare led her to make a radical change that delivered her into a new life in Los Angeles with the intention of shifting into writing. But, fate had a different plan. Never having acted before, she auditioned for and landed a starring role as Tahani on NBC's The Good Place, opposite Ted Danson and Kristen Bell. Seeking to leverage her growing influence to become a voice for change and equality, she launched activism platform, I Weigh. This rapidly became a global movement to mobilize activism, around issues of mental health, climate change, equality for marginalized groups, and what she calls "radical inclusivity." In April, Jamil launched the 'I WEIGH podcast, where she hosts thought-leaders, performers, activists, influencers, and friends, exploring how they are working through their past shames to find where their value truly lies.
You can find Jameela Jamil at: Instagram | Jameela's Podcast
Check out our offerings & partners: 
Nutrafol:

Go to Nutrafol.com and use promo code GLP to get 20% off. Plus FREE shipping on every order.
Photo credit: Susie Gaal Photography