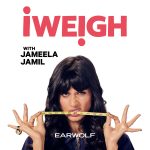 My guest today, Jameela Jamil was a household name in the UK for years. Hosting shows on T4 and BBC Radio 1 before launching into the spotlight in the US, playing Tahani on the acclaimed TV show, The Good Place, and then hosting TBS late-night game show That Misery Index judging voguing reality competition show Legendary. And along the way, she has been incredibly intentional about leveraging her notoriety for social good launching the advocacy platform I Weigh and the podcast of the same name and she's on a quest to really bring together and amplify the voices of change-makers and promote equity and dignity. And for her, it's also personal. Growing up the daughter of Indian and Pakistani parents, she was often bullied, an experience made tougher after being diagnosed with a condition that affects her body's connective tissue and often causes chronic pain. And through her teens, she endured even more trauma. Became anorexic, and then at a car accident that caused a spinal injury that would profoundly change her relationship with her body. And finding her way eventually into the world of TV and radio in the UK, she headed to the US at first to write, but found herself in front of the camera, performing on a set with her childhood heroes on network TV. But it was her decision to speak truth to power and become an advocate for equality, inclusivity, and self-determination that has really become the center of who Jameela is and how she shows up in the world, a place she describes as being post shame. So excited to share this best of conversation with you.
You can find Jameela Jamil at: Instagram | I Weigh Podcast
My new book is available for pre-order:
Order Sparked: Discover Your Unique Imprint for Work that Makes You Come Alive and get your book bonuses!
Check out our offerings & partners: 
Everlane: Shop Everlane for the most beautiful essentials, at the best factories, without traditional markups. Go to everlane.com/goodlife 

and sign up for 10% off your first order plus free shipping. And get easy returns within 30 days of your ship date.

Upstart: Upstart's lending platform provides direct-to-consumer personal loans from $1,000 to $50,000 and automated borrowing technology for banks and credit unions. Find out how Upstart can lower your monthly payments today when you go to Upstart.com/GOODLIFE. Loan amounts will be determined based on your credit, income, and certain other information provided in your loan application.
Photo credit: Susie Gaal Photography