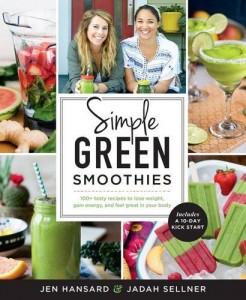 Jadah Sellner and Jen Hansard are the founders of Simple Green Smoothies, a quest-driven company that has grown into a massive global community in an astonishingly short amount of time.
They're also the co-authors the new book Simple Green Smoothies: 100+ Tasty Recipes to Lose Weight, Gain Energy, and Feel Great in Your Body.
Just a few years ago, though, they were two young moms, struggling mightily to get by, on every level.
Money was tight, they both "had" to work to help support their families. Jadah was acting in educational plays for schools and Jen was doing design work. But it just wasn't enough.
Neither found any sense of deeper purpose or sustainable income in what they were doing, so they began to hatch a plan to work together to create a community for moms.
They spent every extra minute trying to build an education website and community, but it just wasn't working. At the same time, Jadah was trying to figure out how to reclaim her health, but as a young mom, she wanted something fast and easy to start. So, she began making one simple green smoothie a day.
That one act changed her health and her life, fueling the loss of more than 25 pounds and giving her tons of energy. And, it became the trigger for a much bigger change. Wanting to share this simple solution with other moms, Jen and Jadah created an Instagram account, named it Simple Green Smoothies, and began to create smoothie recipes and share them. The account exploded. People loved their images, detailed recipes and generosity. As I write this, 382,000 people follow the account.
Over the next few years, Jen and Jadah parlayed that one Instagram account into a massively popular Simple Green Smoothies website, a global community that has now seen hundreds of thousands of people go through their 30-day challenge and now a new book.
They've also built a powerhouse business fueled by health and love and become successful enough to become the main financial supporters of their families. Most important, they love working together, they love what they do and they have a fierce commitment to building their company and community from a place of love.
We dive into their inspiring journey together in today's episode.
Be sure to subscribe to our weekly Good Life Updates and listen on iTunes to make sure you never miss an episode!