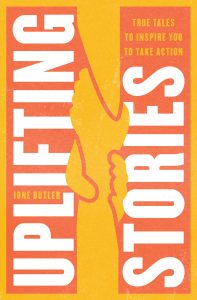 Ione is a British film, television and voiceover actress based in LA with many different credits including Marvel's Black Widow, a leading role in a motion picture which premiered on the Syfy network, as well as guest-starring in hit TV shows on CBS, Spike TV, TLC, BBC and many others. Growing up biracial in West London's Southall neighborhood, which has been known to many as little Punjab or Little India since the 60s, she was surrounded by different cultures, developed an early curiosity for people and community, and a passion for acting that led her to the iconic Brit School of Performing Arts. 
Eventually heading to LA to build her career in the business, she became increasingly called to both create her own roles, focus on producing positive media, and take control of her career, founding Uplifting Content, a social media platform followed by over 1.4 million people, hosting the Uplifting Content Podcast and most recently writing the book, Uplifting Stories. We also explore what it's like to navigate the world of entertainment and act on the impulse to put positive, optimistic ideas, media and offerings into the world at a time it needs it more than ever, but also when we, personally, may be carrying a lot of weight. 
Check out our offerings & partners: 
Share Good Life Project with your friends and earn rewards: Refer 7 new listeners, get a personalized thank you voice-message from Good Life Project host, Jonathan Fields (and big virtual hugs and gratitude!). Visit tinyurl.com/glpfriend 
Theragun: A deep muscle massage treatment unlike anything you've ever felt. Feel better, move better, and recover faster with tension and soreness relief. Try Theragun for 30-days. Go to Theragun.com/GOODLIFE right now and get your Gen 4 Theragun today.
Indeed: Connect with your talent audience so you can make more quality hires faster. Indeed is offering our listeners a FREE $75 CREDIT to boost your job post at Indeed.com/GOODLIFE
Man Crates: Awesome gifts for guys packed in wooden crates that you open with the included crowbar. Now through December 23rd, buy one item and get a second item for 50% OFF at ManCrates.com/GOODLIFE. Plus, get SPECIAL Santa Daily Deals!
photo credit: Damu Malik